DIGITAL EXHIBITIONS
---
---
WALLMUSE CURATIONS

Day moments curation
This digital exhibition is divided in third parts which is adapted to day moments.
Great Day regroupe uses colours and movements that are harmonious:
Happy Hours uses colours that are lively, vivid and pace can be fast:
Chill is minimalist Montage, often using black and white with a colour, and pace is relaxing:
A simulation of this Montage was carried out for a hospital:
---
---
RMFAB CURATIONS

In this section, we shall present various case studies that took place in the course of the SHAREX Project. The aim is to show concrete applications of the concept of digital curation, and how it can provide a totally new experience for the visitors of a museum.
---

From Impressionism to Fauvism from Belgium : RMFAB masterpicees exhibited in Japan
This traveling exhibition, organized in collaboration with the Culture Department of the Yomiuri Shimbun, was presented at four Japanese museums: the Yamanashi Prefectural Museum of Art (18.04 – 05.07.2009), the Tottori Prefectural Museum (20.07 – 30.08.2009), the Seiji Togo Memorial Sompo Japan Museum of Art in Tokyo (12.09 – 23.11.2009) and at last the Matsuzakaya Art Museum (12.12 – 14.02.2010). Sixty nine paintings are exhibited, masterpieces offering an overview of Belgian art of the early nineteenth century, an important period of exchange with France.
The video introduces a selection of the works presented in Japan which are in the public domain.
---
Five Modern Masterpieces
in dialogue with collections
This exhibition was held at the Royal Museums of Fine Arts of Belgium from 18 May to 27 August 2016. In an original and innovative presentation, five masterpieces from the collection of modern and contemporary art are narrated by a selection of paintings, drawings, sculptures from other artists of the Royal Museums of Fine Arts of Belgium. The visitor is invited to make connections between the different artworks, to understand the various influences, the context, the background, the coincidence of themes. What was perceived as a masterpiece yesterday might not necessarily be perceived as such tomorrow. For the first time, to enrich this experience, a multimedia cylinder ("digital experience") offers enhanced content – videos, digital art, touchscreen table, high definition projections, … – for a comprehensive approach to the artistic creation.
The video introduces the concept of digital experience combined with the exhibition.
---

14-18. Rupture or Continuity?
The exhibition 14-18. Rupture or Continuity? (from September 29th 2016 to January 22nd 2017) delves into the vast collection of the Royal Museums of Fine Arts of Belgium and explores changes and constants of Belgian Art between 1910-1925. Artists and artistic movements with a significant influence, like Constant Permeke's Expressionism, Jules Schmalzigaug's Futurism, or even Jozef Peeters' Pure Plastic,  are shown side by side in this display, immersing the visitor in an era of artistic and political upheaval.
Digital Experience, the brand new multimedia cylinder, provides an interactive context for the works of art on display. The innovating device offers a global vision of Belgian artistic creation in the days of World War I, via historic documents, videos, audio recordings and artwork reproductions.
Two tracks present the main works of this period. A timeline was realised by the team of cultural mediation of the Royal Museums of Fine Arts of Belgium (EDUCATEAM). The set was accompanied by a soundtrack for a complete immersion of the visitor in the digital device.
Below, the video of the time line created for this exhibition:
© EDUCATEAM, RMFAB / realised with beedocs
---
Pierre Lahaut
The sixties

This exhibition, which takes place in the RMFAB from March 10th to 2 July 2nd 2017, is the latest to benefit from the digital experience. The multimedia cylinder offers enhanced content – touchscreen table, videos, photos, archives, high-definition projections … – for a comprehensive approach to the life and works of Pierre Lahaut.
The artworks projected by WallMuse are issued from private collections. An overview of the Montage is not possible for this retrospective.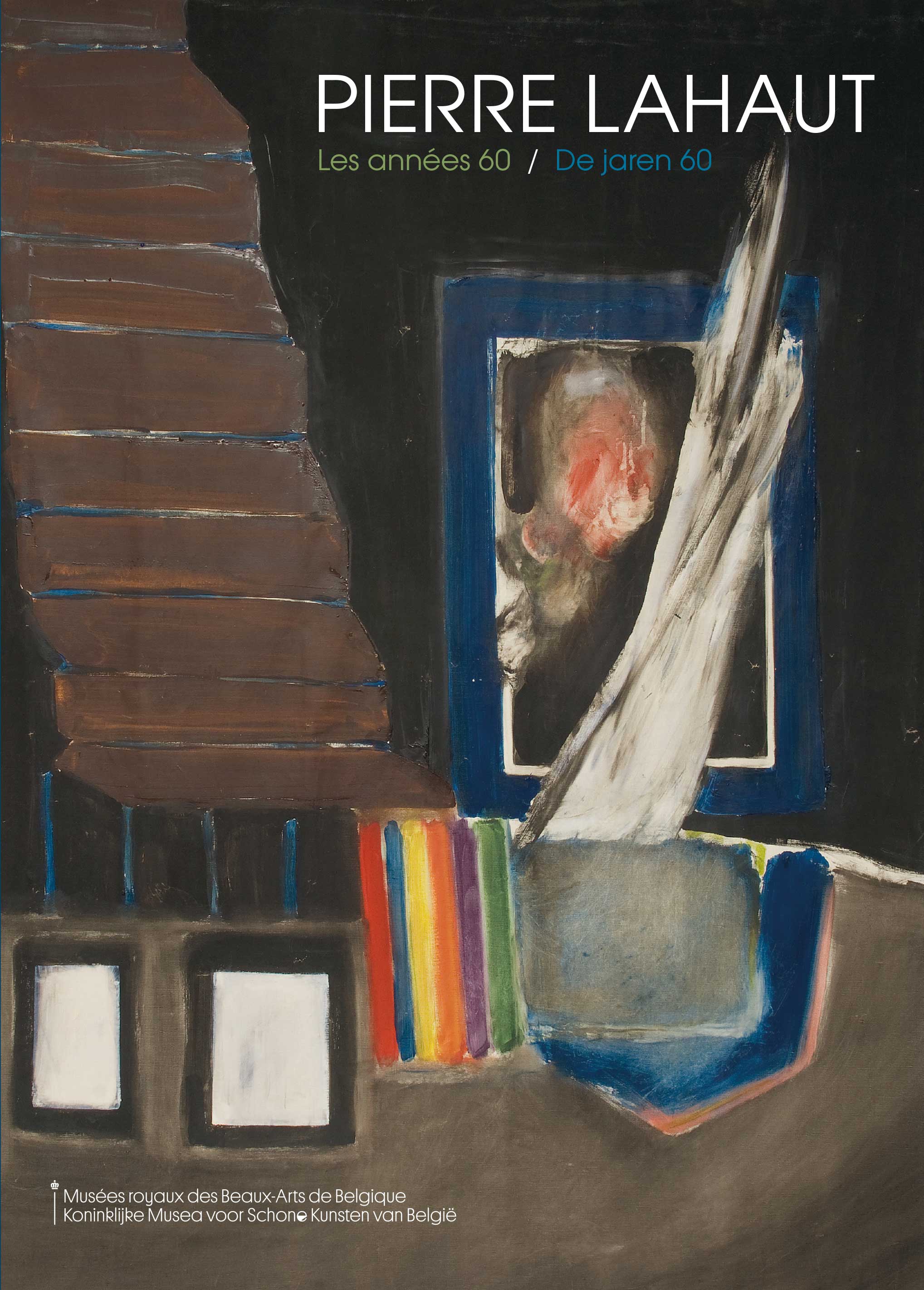 ---
---
MOMus-Museum of Moder Art-Costakis Collection
CURATIONS

---

Contemporary Antiquities
Antiquity has a universal aesthetic, one that can be understood all over the world.  An approach to this aesthetic through the expressive eye of contemporary artists is the main concept and allure to enjoy the "Contemporary Antiquities".
The Greek antiquity, a beloved theme by all the humanities, an aesthetic more recognizable that any other, is presented via the modern art lenses, creating new images based on ancient  tradition.
"Contemporary Antiquities" digital exhibition is based not only on image, but also on the history of styles.  A concept more recognizable than any other, that is both highly intellectual and most popular and understandable to big audiences and especially to tourists.
This theme proposed by MOMus received content support also from RMFAB.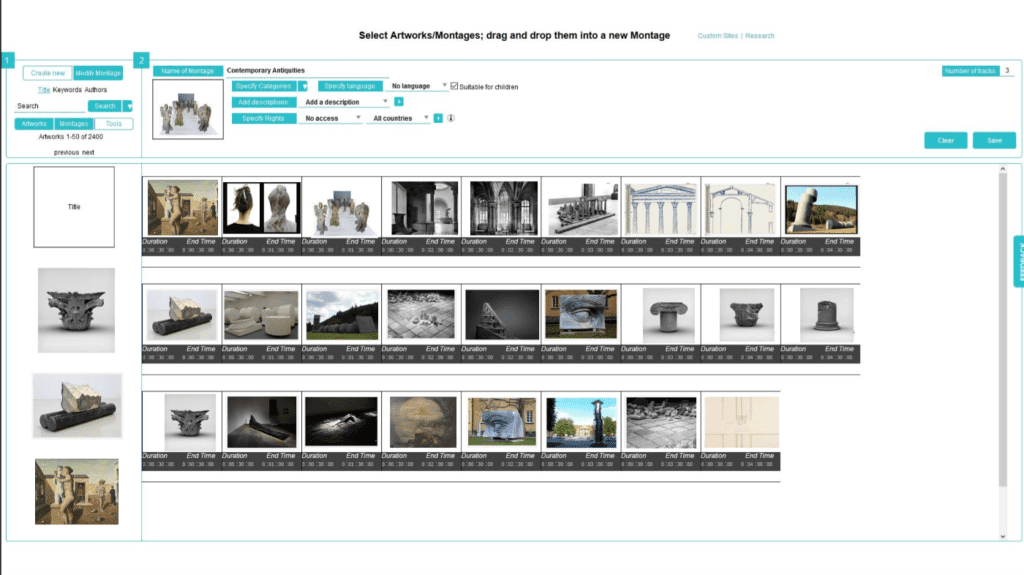 See PDF : Contemporary Antiquities
---
---
CO-CURATIONS
(realisation of digital exhibitions with several members)
This section presents some exhibitions where RMFAB, MOMus and WallMuse together co-curated them such as for:
---

Women in Arts
This theme proposed by MOMus was completed by WallMuse. Women in Arts includes artworks from Elvira Bach, Tamara de Lempicka, Frida Kahlo, Edward Weston and many more.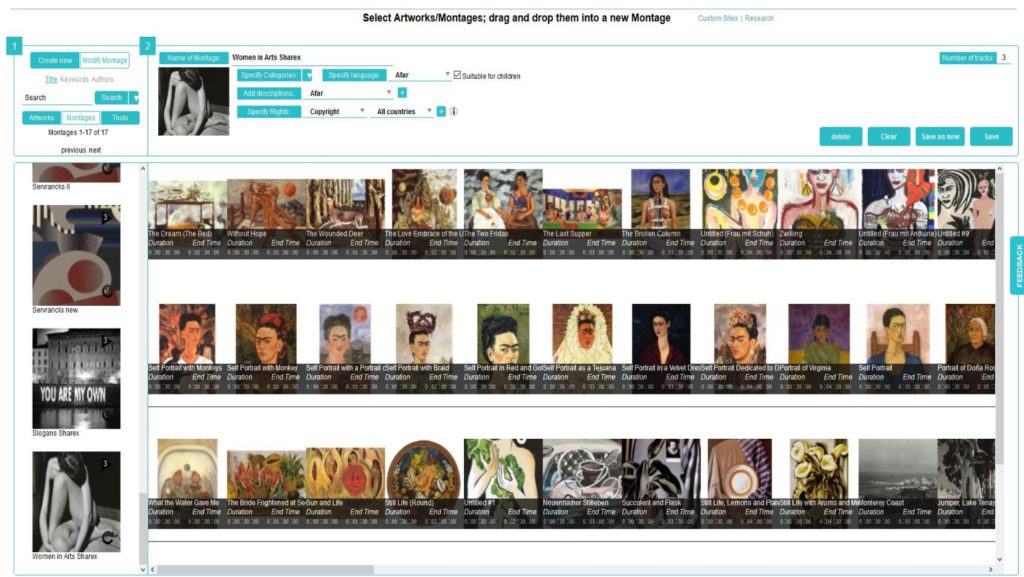 See PDF : Women in Arts_Montage
---

Movement
This theme proposed by MOMus was handled by WallMuse using one track with digitizations of artworks from Light Painting, Futurism, Mobile Installations, Body in Movement, Op Art  with appropriate photo art and art films.