As the menu, the digital exhibition platform and its menu enables to:
Digital Exhibitions enable to digitally curate the multimedia contents upon a timeline where contents are ordered and have specified durations. When an exhibition is made for multiple displays, the number of tracks is indicated.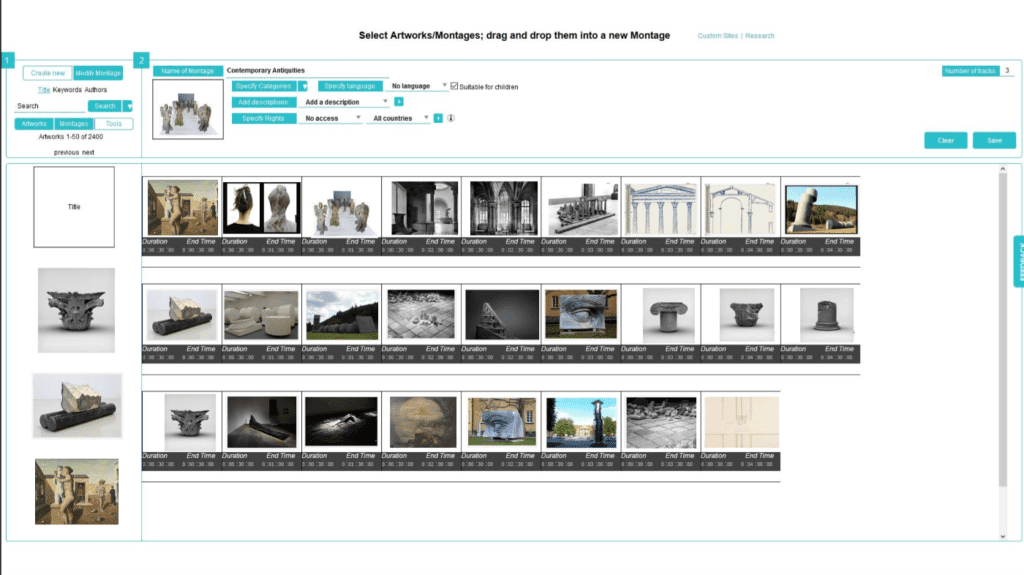 TVs, PCs and their monitors can be used to view digital exhibitions. Projectors, more and more common, are also a means to display exhibitions.
The player app can be installed on a number of PCs with one or multiple displays screens so exhibitions played.
Exhibitions viewed on different displays enable curated discourses, a new enhanced experience, that can transform homes or public spaces.
Because of rights, contemporary art can rarely be shared over the Internet. This concerns most of the wealth presented by museums, festivals and other cultural mediators.
Those that have rights to channel digital content and collections – authors, collectors, galleries, museums and centres – specify their rights through a digital rights management (DRM) process for digital content, their information and the digital exhibitions.
The broadcasted exhibitions are encrypted, and can only be viewed on HD, 4K or multiple display subscribers: a unique solution to encourage legal sharing, in respect to rights.
The platform offers to art professionals a shared business model that redistributes revenues on one hand based upon audience of produced Digital Exhibitions, and on the other hand, subscriptions generated by public and private subscriptions. The shared business model is based on 50% of subscriptions. Each art professional has access to its statistics (on one hand the number of subscribers, and on the other the audience indicators) so they can manage the transfers.
Distributors sites and stores that generate revenues have their own rules.
Offering free content obtains wider audience and the 'freemium' approach is marketing robust. Work in the public domain and cultural sites are suited for such an approach.